By Adam McDonald, editor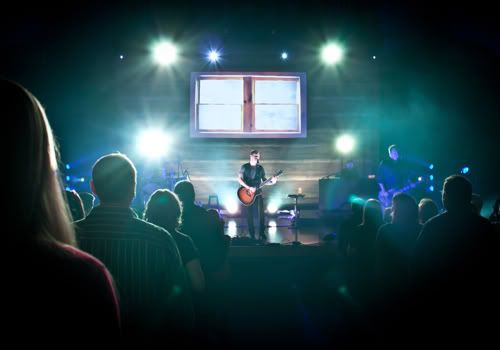 "I was pretty overwhelmed," said sophomore Joe Venhuizen. "It was probably one of the biggest things the BJ Haan has had in there."
That was just one reaction to Matthew West in the BJ Haan auditorium on March 26.
Before Matthew West took the stage, however, Josh Wilson, another contemporary Christian musical artist, opened for him. "He was really good. I was impressed because he was a one man band," said Venhuizen. 
"He recorded a bunch of different beats. It sounded like he had an entire band behind him. I thought it was cooler than Matthew West."
After Wilson was finished, West came and took center stage and the crowd got into it right away when he made up a song on the spot about Sioux Center.  He commented on the smell and said how it was the smell of money, but it wasn't all negative.   
"It's not Sioux Falls and not Sioux City," he sang.  "It's right in the middle and much more pretty."  He smiled graciously. "The good news is someone is recording this and because of me Sioux Center will go global so you can thank me later."
West opened up with his three most popular songs: The Motions, You are Everything and More.
People came from all over the county, some even from other states. It was clear that the crowd enjoyed the performance.
"Matthew west did a really good job entertaining and integrating a good story with his songs. Josh Wilson was really good on the guitar, too. I did get to meet Matthew West. He signed my CD," said sophomore Mark Opp.
"It was cool to meet him. He is a really personable guy. My favorite part was hearing his latest songs and the inspiration behind them," said sophomore Melissa Braunschweig. 
At the end of the concert, fans were encouraged to come up and meet Matthew West, his band and Josh Wilson. 
"I thought it was cool because Matthew West was right at the front talking to people who wanted to come up. It was cool they weren't too big for their fans," said Venhuizen.
Photo by Jordan Edens