By Kelly Zatlin, editor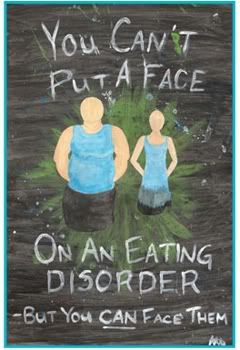 We live in a broken world where over 45 million people are fighting a life and death battle because of their relationship with their food. 
Statistics show that 80 percent of American women are dissatisfied with their appearance and 81 percent of ten year olds are afraid of getting fat. 
In America, many women are afraid of food while 15 million children in different parts of the world die of starvation every year. Why is this? 
Is it because women's magazines have ten times more ads about weight loss than men's magazines or because we as a nation spend $40 billion on diet-related products each year?
Women all across the nation are struggling with body image and eating disorders, and our campus is not exempt.
Natalie Sandbulte, student counselor and professor of psychology at Dordt, introduces some of her classes with these stats each semester and now wants to introduce these stats to all of Dordt. 
 With the help of Dr. Sandbulte, Dordt College will be recognizing National Eating Disorder Awareness Week on Feb. 21 – 25 by hosting events around campus. 
Sandbulte hopes to raise awareness about eating disorders amongst the Dordt campus and community. 
"Up to 20 percent of all college women have eating disorders," said Sandbulte. "I've seen first-hand that women on campus are struggling, and I think we need to do more to prevent it. 
"It's one of the things I'm really passionate about in my work as a clinical psychologist. I've seen it devastate a lot of lives." 
All week long there are events planned around campus to help raise student awareness and promote possible change.
"One of the biggest things is a project called 'Room with a View'," said Sandbulte. "This is going to be a large visual display depicting the four stages of an eating disorder and what it would be like for someone to go through that. You get a feel for what it would be like."
This will be located in the eckardt lounge and will include a box for comments and a prayer wall where people can post prayer requests for themselves and loved ones.
Monday Feb. 21 will be designated as "mirror-less Monday." 
Sandbulte hopes to commit everyone to covering up large public mirrors for the day with paper that is littered with encouraging messages. This is being done in hopes that women will realize that it does not matter what you look like. 
There will also be a "Great Jeans Give-Away" encouraging women to give away an old pair of jeans that they do not fit into anymore. 
"A lot of times people try to make their bodies something that they are genetically not," said Sandbulte. "We can't change our genes with the 'G.' Women need to embrace health, truth, and inner beauty."
Jean drop-off locations will be in the Eckardt lounge, 55th  Ave), and the lobby of Covenant hall. Jeans will be donated to a charity. 
In addition, there will be a movie night on Wednesday Feb. 23, followed by a panel discussion about eating disorders. 
One way for the male community at Dordt to get involved is through prayer. "Men's prayer groups around campus are going to specifically be praying for women during that week," said Sandbulte.
Sandbulte is encouraged that Student Services as well as the theater, art, and psychology departments are becoming involved and making this week possible. 
"My goal this year is to just raise awareness," said Sandbulte. "I'm really hoping we can make this an annual event. 
This year I am focusing on making people aware so that they know just how broad the problem is."
People at Dordt may not realize how much of a problem eating disorders really are here on campus. 
"I don't think we're any different," said Sandbulte. "You look at national stats and we fit right in there. A 20 percent prevalence rate is unbelievable."